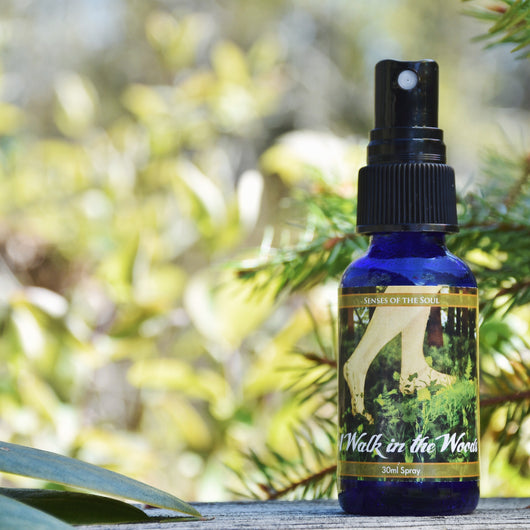 A Walk in the Woods Spray 30ml
Regular price $13.00 Sale
A Walk in the Woods Spray is a woodsy, earthy spray perfect for connecting back to Mother Nature. Carry this spray with you, or keep it in your office drawer, for those times when you need to feel grounded and safe. This Cedar hydrosol based spray is layered and complex, with an invigorating blend of Spruce, Begamot, Cedarwood, Pine, Rose, Vetiver, Rosewood, Red Spinel, Fireweed, Black Spruce and Azurite. Reminding one of walking through pine trees after a soft summer rain, the air thick with rich smells of damp earth, fragrent spruce, and the underlying sweetness of wildflowers. Spray the space around you when you feel the urge to walk barefoot on moss covered paths. 
Cedar - Releases fears and reduces stress, opening your heart to self-love, and feelings of protection
Pine - Allows for you to see and accept your own faults, then let them go
Bergamot - Balances the biochemistry of the brain, integrates incoming cosmic information
Vetiver - Connects you to your Root Chakra allowing you to be anchored in the earth
Rose - Helps us to open our hearts to love ourselves more fully and bring joy into our lives
Rosewood - Pushes away sad or dicouraging thoughts and helps you acquire new healthy perspectives
Red Spinel - Disolves limitation and barriers around your heart, igniting passion and play
Fireweed - Shifts your energy from a dominating standpoint to a more loving, co-creative attitude
Black Spruce - Provides grounding, allowing us to be more realistic
Azurite - Is a powerful healing stone, removing old blockages and raising your consciousness
We hand make all the hydrosols in our copper still. Hydrosols are also known as floral or flower waters, and are produced from steam-distilling plant materials. They contain less than 5% of the essential oil of the plant. Store in a dark, cool place and best if used within three months. For external use only, do not ingest.