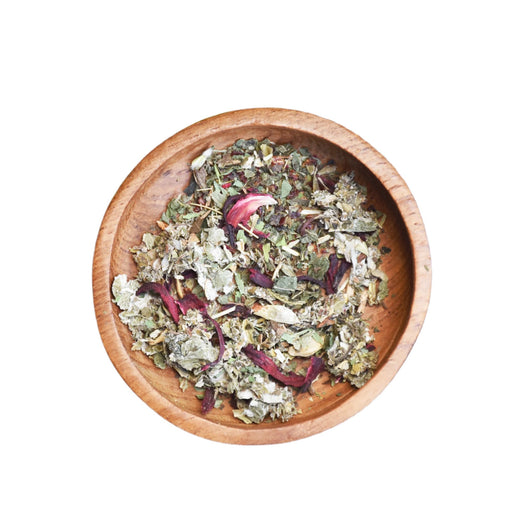 Sample Goddess Tonic Tea 4g
Daily Nourishment for you Inner Goddess!
Archetypes: Earth Mother, Goddess, Maiden, Mother, Crone, Divine Feminine
Ingredients: Red Raspberry Leaf, Stinging Nettle, Hibiscus, Lemon Balm, Rose Hips, Red Clover, Damiana
Flavour Profile: Soft floral taste, with a light herb finish

This nourishing tea is formulated with seven different herbs that nurture the inner goddess in all of us. A source of vitamins, minerals and antioxidants, this special blend supports the vitality of the physical body, while helping one reclaim the warmth, goodness, and authenticity of the feminine self. Goddess Tonic Tea is intended for use by both women and men seeking to reconnect to the feminine.

This tea is meant to be enjoyed every day to provide economical nutrition and sustenance to the physical body. The blend of herbs is vibrant green in colour that when steeped produces a deep red tea. This colour combination allows one to connect more easily with the root chakra and one's inner Earth Mother, as well as the Goddess archetype. Enjoy this tea either hot or cold.

To fully enjoy the benefits of Goddess Tonic Tea steep for five minutes.
You may also be interested in Goddess Moontime Tea
All Senses of the Soul™ Teas have been co-creatively blended in partnership with Mother Earth. Our teas are hand crafted with organic, wild-harvested or non-irradiated herbs. These exquisite loose-leaf teas have whole flowers, vibrant leaves and chopped roots to provide richer flavour and a stronger life force than processed bagged teas. Teas work on an energetic level while also providing benefits to the body and its systems. Sitting down to a cup of tea is an act of self-nurturing, bringing awareness and intention to the individual's healing experience. 
Disclaimer: If on medication, check with your health practitioner before use. Do not combine herbal remedies with pharmaceutical drugs unless you have consulted your health practitioner. As with all medicinal products, keep out of reach of children and pets, and avoid use during pregnancy or lactation.