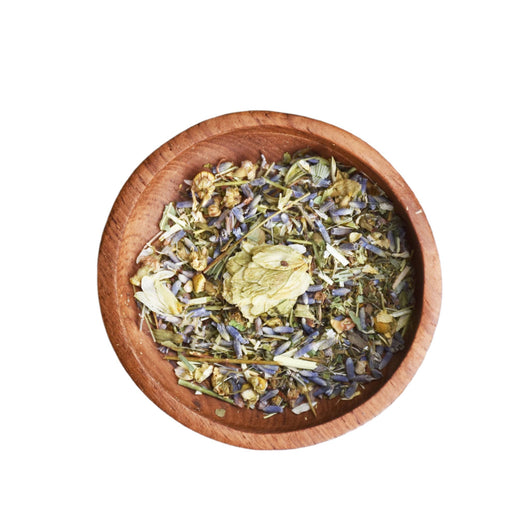 Sample Feel No Fear Tea 4g
Calm your nerves with this soothing herbal blend!
Archetypes: The Earth Mother, The Sage

Ingredients: Lemon balm Leaves, St. John's Wort, Lavender Flowers, Peppermint Leaves, Passion Flower, Hops, Oat Straw, Chamomile Flowers
Flavour Profile: Earthy, slight bitterness, floral lavender notes
The Feel No Fear Tea soothes the nervous system, releasing the tension, and calming the mind. This allows you to digest negative emotions, alleviate your fears and provide clarity of thought. By harnessing The Sage archetype and grounding you in the Earth Mother archetype, your inner wisdom brings your life purpose and life direction into focus. Make a cup before bedtime to ease stress, and to balance energetic and emotional forces within the physical body. Know that the Earth Mother envelopes you in her arms, creating safety and comfort, for a better night's sleep.
All Senses of the Soul™ Teas have been co-creatively blended in partnership with Mother Earth. Our teas are handcrafted with organic, wild-harvested, or non-irradiated herbs. These exquisite loose-leaf teas have whole flowers, vibrant leaves and chopped roots to provide richer flavour and a stronger life force than processed bagged teas. Teas work on an energetic level while also providing benefits to the body and its systems. Sitting down to a cup of tea is an act of self-nurturing, bringing awareness and intention to the individual's healing experience.
Disclaimer: If on medication, check with your health practitioner before use. Do not combine herbal remedies with pharmaceutical drugs unless you have consulted your health practitioner. As with all medicinal products, keep out of reach of children and pets, and avoid use during pregnancy or lactation.