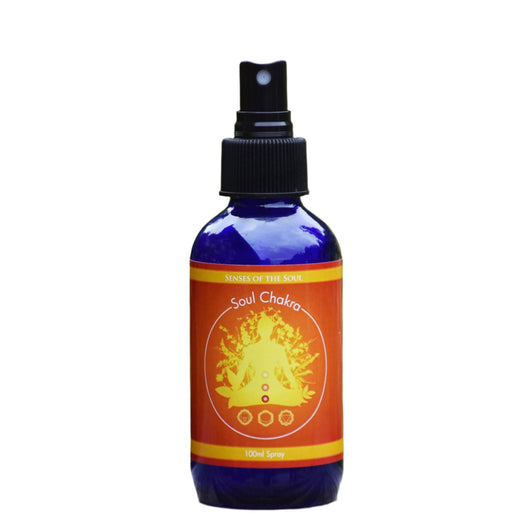 Soul Chakra Spray - 100ml
Regular price $33.00 $33.00 Sale
The Soul Chakra spray balances the 1st, 2nd and 3rd chakras to root you in soulful purpose, co-creation and manifestation. It contains a Peppermint hydrosol from our botanical farm garden and a soulful blend of oils and essences of Spearmint, Cajeput, Helichrysum, Ylang Ylang, Sagebrush, Black Spruce, Bloodstone, Citrine and Black Tourmaline. This sweet smelling spray cools and refreshes on hot summer days or hot flashes brought on by ascension downloads, soulful fear of one's purpose or menopause.

Peppermint - Aids us in recognizing that we always have a choice and empowers us
Spearmint - Fosters the enthusiasm and desire to grasp life; allows one to take it all in
Cajeput - Promotes loving relationships and works on the meridians for total harmony with all life
Helichrysum - A powerful catalyst for strengthening the will & healing emotional trauma.
Ylang Ylang - Sweetness of all encompassing love, washes away all grief and sorrow
Sagebrush - Purifying & accelerates personal evolution and deep transformation
Black Spruce - Balances polarities of light and dark, brings strength, clarity, inner wisdom
Bloodstone - Enhances flow of earth energy, provides grounding and centering
Citrine - Brings clarity, focus & courage, clears out limiting thought patterns and beliefs 
Black Tourmaline - Cleanses and protects the body & psyche from fear of the unknown.
We hand make all the hydrosols in our copper still. Hydrosols are also known as floral or flower waters, and are produced from steam-distilling plant materials. They contain less than 5% of the essential oil of the plant. Store in a dark, cool place and best if used within three months. For external use only, do not ingest.